Your success story IS our success story.
We want your clients to love you so much that the referrals pour in left & right.  We want your potential clients to see you as THE choice to trust with their investment.  We want your associates to want to team up with and work with you because of your success.  Most of all, we want to add to and improve the overall lifestyle you live by partnering with you to take on some of the creative work so you can focus on your family, friends and business.
For that to happen, you either need to already have a solid marketing strategy that is working, be experienced with marketing, or at the very least – WANT to have a stronger marketing strategy.  One of our specialties is coaching for Stronger Marketing Strategies.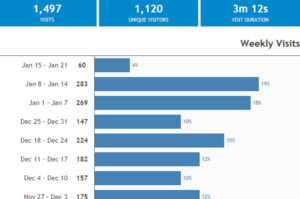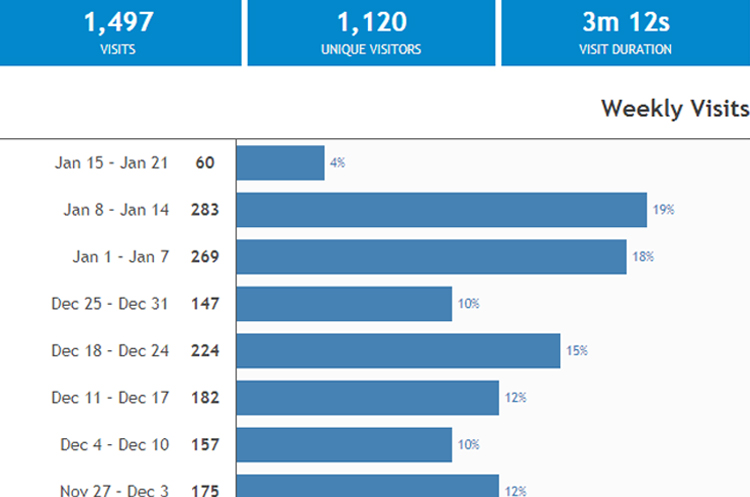 Results matter.
We are going to share some of our results from some of our Social Media Channels that will give you a glimpse into some of the basic posting recipes that work. We are also going to give you a breakdown of a posting template we use in our strategy for Marketing Real Estate on Social Media.
Step ONE: The Battle Plan
Any solid strategy starts with an accurate overview of the battle & the battlegrounds.
The Battle of Social Media Marketing hinges on earning followers and turning them into cheerleaders.  Content and Engagement are the weapons you will use to fight this battle.
Your Marketing Battleground is the Internet, more specifically Social Media Platforms (aka Channels).  You are going to need a Business Profile on at least TWO of these channels, preferably a profile on each of the top 5: YouTube, Facebook, Instagram, Pinterest, and LinkedIn.  You can forget the bottom 4 (avoid bottom-feeding).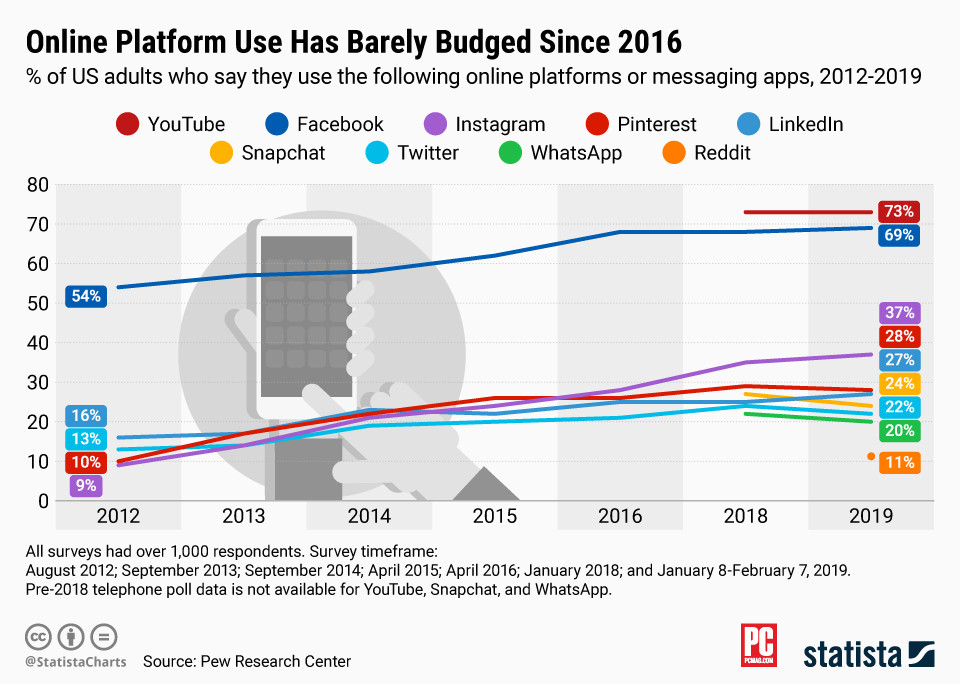 Step TWO: The Elephant in the room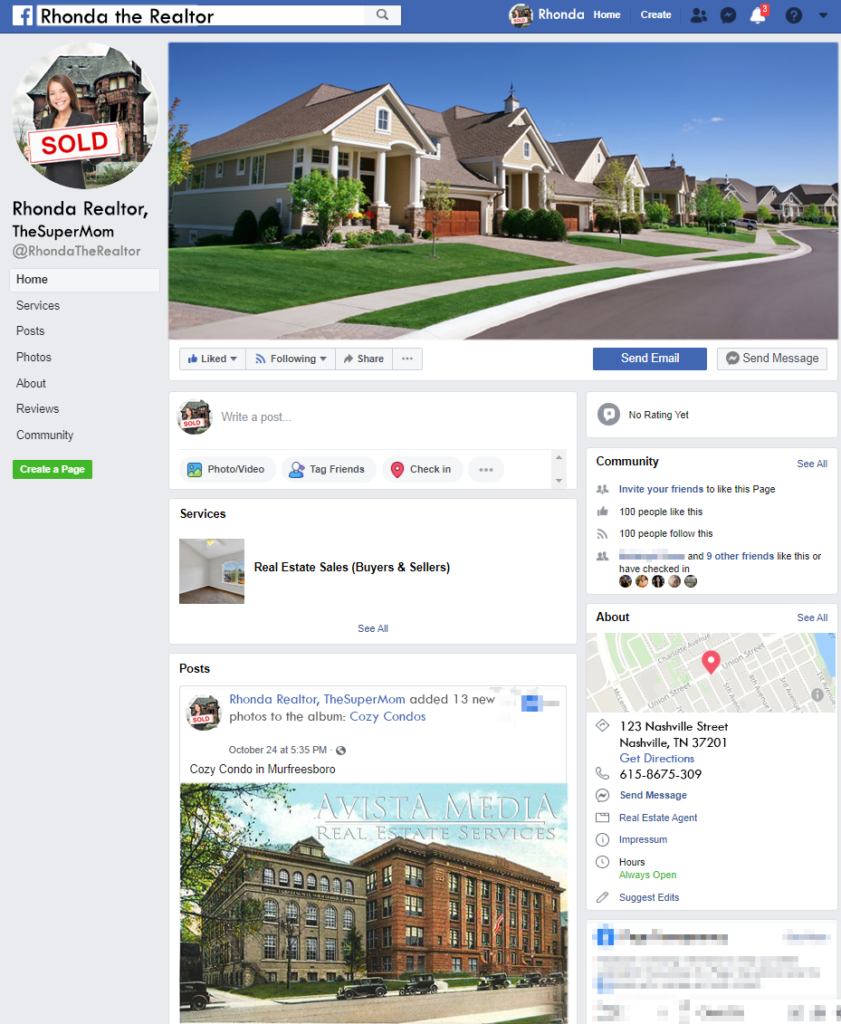 If you're going to gain ANY ground in today's Social Media Marketplace, you're going to need a proper Facebook Business Page.
If you don't have one, you will need to create one or have a professional service create one for you (like AvistaMedia.com – yes, we do that stuff).  If you already have one, it's going to need some basics:
You're going to need a proper @TagName (preferably the same one you use on Instagram and anywhere else).

This is the method that you will use to TAG yourself in posts (others can use it too).  The first 23 characters needs to be unique, FB stops suggesting people to tag when you hit 24 characters (Keep it simple).

Information about YOU & Your Business. If people are going to try to do business with you, they will need your information.  The more you can provide, the better – people don't want to have to search the internet to put a puzzle together. 
RELEVANT CONTENT.  This is in BOLD CAPITALS because it's imperative to ANY chance of building an audience.  Note: "Relevant" means both Current and Related to whatever services you provide; the more relevant your content is, the greater chances you will have in doing business with your fans.
Theme. Any good party has a theme, otherwise it's chaos.  Choose a professional look or go for a candid and personal flavor – but at least choose and select content that fits your theme.
PHOTOS (and Videos).  Social Media thrives on Photos & Videos.  You'll need a regular stock of them in your Social Media Gun (your cellphone) to post regularly.  With FB Pages, you can sit down for 30 minutes and "schedule" about 10 posts in advance to be published over a period of time, this is a strategy that will give your page some momentum, which builds your audience.
TIME.  Managing your Social Media Page is a part-time job, don't make it a career.  If you find yourself making it a career – Get Help.  You will need to engage with people (daily) that make comments or like & share your posts, this is your FB Lead-Gen, don't underestimate the power of engagement.
When your Facebook Business Page is in order, it's time to move on to the next step.
Step THREE: Preparing to Present
BEFORE you continue: Find & Join some FB RE Groups.  In the FB Search box, look up "Real Estate", then select "GROUPS".  Spend a few minutes joining some RE groups.  Some groups will require you to answer some entrance questions – they'll probably delete your application if you don't answer.  Try to pick groups that are most relevant or have a decent membership size.
Here's a snapshot of some MidTN FB RE Groups: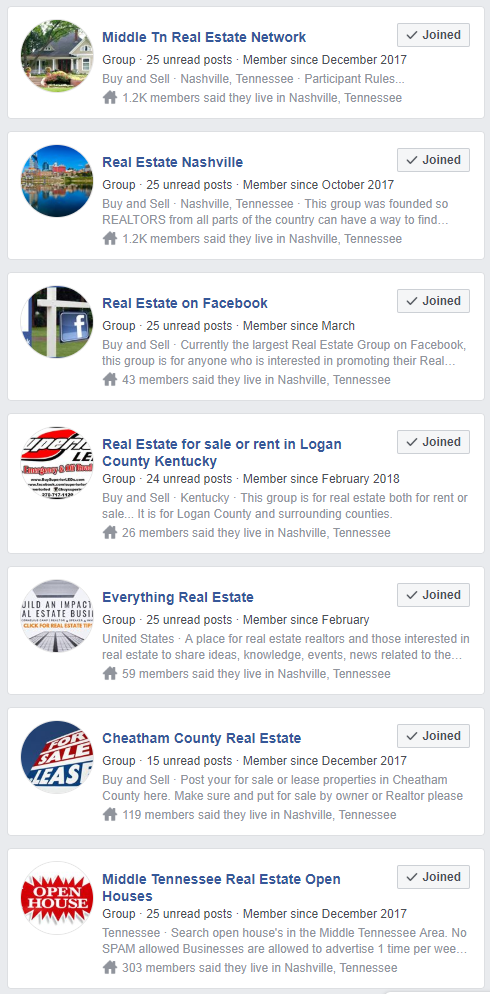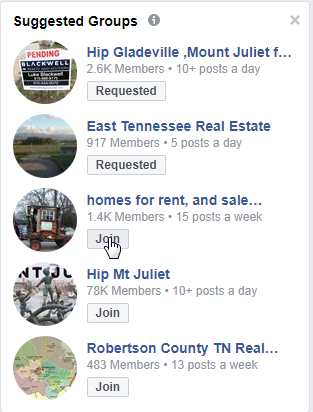 Joining Groups AS your FB Business Page
When you're on your FB Business Page, you should see a section on the right side labeled "Suggested Groups". Here is where you can join a group AS your FB Business Page - Do this as you have time, it saves time when sharing posts.

When you go to share your post from your FB Page, you'll notice the option to change the "SHARE AS". By default it is set to your FB Business Page and you will have to change it to your personal profile to be able to access the groups of which you are a member.

When you join a group as your FB Page, you have access to those groups by default.
Step FOUR: Baking the Cookies
If you fear or dread the idea of creative writing, this will be your arch nemesis.
You're going to need to post content regularly to build some momentum to build your audience. 
Here you will learn about the Listing Post (not listening post).  Below you should see a few examples of successful Listing Posts, these are not the end-all best of the best, but they performed because a certain "recipe" was used in the process.  It's like baking cookies at an open house; there's the ingredients, the preparation, the cooking, the presentation, and  the sharing.  Step TWO is the first 4 parts of that process.

Exhibit A:  The Sugar Cookie
Rhonda kept it as simple as possible.  It looks like she used the SHARE Button in her Virtual Tour Report (the email you get with your Virtual Tour Package) to share it directly to Facebook, and while she was there added the text content and tagged us before publishing. Thanks!   (blush)
Rhonda left out a few important ingredients that could have made this post more effective.  it was more of a Thank You post, but earned her some clicks on her listing.  It's the equivalent to a "Sugar Cookie".   We don't know the stats for this post because we didn't create it, only Rhonda knows how well this performed – but in our experience, it probably could have done much better.
We certainly appreciate the recognition, but we want that listing SOLD!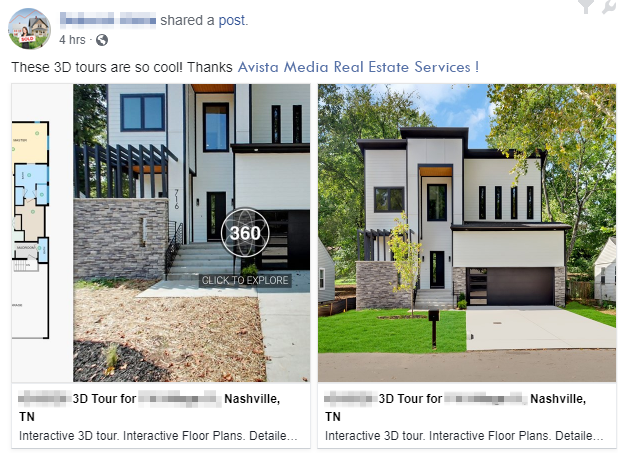 Exhibit B: The Layered Vanilla Chocolate Cream Cupcake with Sprinkles
Known in America as the treat of all treats. With lots of ingredients that made it smell good, look good, and was tasty & delicious.  This is the kind of baked goods you want to bake at your open house, your guests won't be able to resist.
Seasoned with cute emoji's (the sprinkles), creative writing, location tags, agent & office tags, an MLS# (to comply with some groups rules), a link to the Listing Webpage (or Virtual Tour), hashtags to make it google friendly, a short "GiveBack" to the author and a collage of Professional Photos to drool upon.
This one was SEEN by over 7,300 people and earned almost 2,000 post clicks.  123 of them visited the webpage; 674 viewed the photos; and 1,166 people probably clicked on the agents tag or the brokerage tag to visit their FB Business Page.
This, ladies & gentlemen, is the kind of ammo (content) that will make your sellers LOVE you, win over potential clients, grow your network, and impress your associates.  Obviously you can see that this post was created on our page.
We use this template as a framework-recipe for most of our listing posts.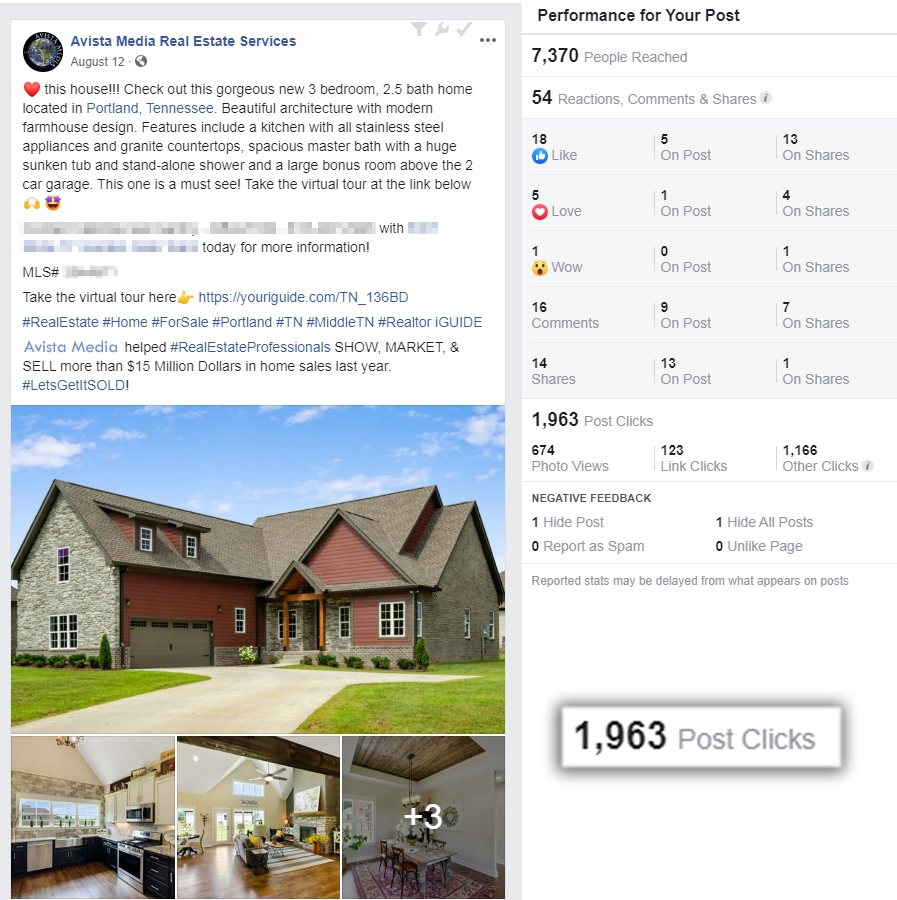 Here's the Recipe you see above:
NOTE: We use Google Docs as a White Board. Sometimes FB crashes and can DUMP your work; Google Docs saves an updated version of whatever you're working on at the time.  You can also use the whiteboard as a template to create "derivatives" of your listing post.
Begin with a blank & your WEB Content (URL's & Links).

If you have a Listing Website or a Virtual Tour, Copy & Paste the URL (link) into the post first.  FB will generate a Preview of that page content.  The Preview almost always links to that content; Photos that you add should link to that content as well (sometimes it doesn't – ah well).
If you DON't have a Listing Website or Virtual Tour, add whatever URL or Website Link you want your viewer to end up visiting.  Even if its a Realtor.com or RealTracs link. Your Brokerage Website will do in a pinch.

Now its time for some creative writing. (Best to do this part in Google Docs).

Element 1: (Above the URL/Link) Talk about the biggest features of the listing first, then the location.  Use an @Tag for the location – sometimes FB will suggest the actual town as a link, which adds to the posts relevancy ranking.
Use blank lines to separate your content elements.
Add your contact information, using your FB Business Page @Tag, include your @TeamOrGroup and your @Brokerage.  Include a Call2Action.
Add the MLS# to comply with some group rules.
 Here's where you'll add a call2action to invite the viewer to visit the webpage. (Take a tour here: www.listingwebsite.com)
Another blank line before you add some #HashTags.  HashTags are KeyWords that make your post more searchable online.  The more your hashtags appear in your content, the higher your post will score as "Relevant".
Add a "GiveBack" to your vendors or relevant associates, like mortage lenders or builders you work with to add some charitable value to your post.
Finish strong with your very own #HashTagline – ours is #LetsGetItSOLD!

Add the content to your FB Post if you were using a Whiteboard.

Copy & Paste the contents of your whiteboard if you used one to build your content.
After your content is there, you'll need to do some editing. Fix the @Tags and a little reformatting – then you're done.

To edit an @Tag, you'll just move your cursor to the end of the @Tag and FB will suggest Link Replacements.

Spell-Check again.

Time to SUBMIT the post.

The cookie is made and its time to pull it out of the oven and PRESENT the cookie.
but wait, there's more . . .
Step FIVE: SHARE your cookies!
Now that you have a listing post on your page, anyone that is FOLLOWING your page (not your Likes/Fans – but your FOLLOWERS), will get a notification that you've made a new post and will also see it on their news feed.  This ONLY applies to your existing audience (unless you "Boost" the post – don't do that until you know what your doing).
To get your post in front of people that aren't in your network, you will need to SHARE your cookie.   BEFORE you can share your post in groups, you're going to need to be a member of the groups that are relevant to your post.  
Here are some Sharing Tips:
When you share your post, don't copy & paste the content that is already in the post; It's already there.
Don't post the Price – you want people to contact you for the price & info.  If you DO post the price, and there's a reduction – your Shared Posts are no longer accurate.
If you have an Open House planned, this would be a good place to share that info.
Avoid Duplicate Posting!  People hate duplicate posts the same way they hate commercial re-runs.  Every 3 to 4 days, create a variation of your Listing Post with slightly different visual content (photos) and Reformatted Text Content – then share that post.  Most people won't even notice its the same listing, but will at least see the listing again, and you'll have what they call A/B Testing in motion.
Step SIX ||: AND REPEAT :|| (the secret to success)
And you're off to the races!
With this basic recipe, you can create variations of listing posts that suit your time, style, and brand.
We hope this information is useful and brings value to your listings.  We want to hear from you, share your thoughts!
Thank you genuinely for tuning in to this episode of #LetsGetItSOLD!
Social Media Marketing Workshops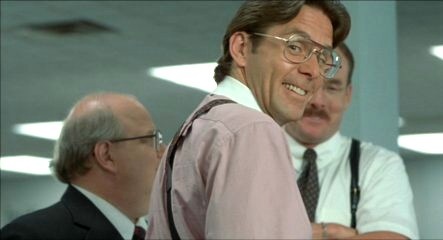 Want more?  (of course you do)
Avista Media has several Lunch & Learn Workshops tailored to help refresh and educate entry-level & expert Real Estate Professionals in the world of Marketing Real Estate on Social Media and Using Technology to Build Value.
Our current workshop is titled: "SEEN & SOLD".
If you would like to host one of these workshops in your office or for your team, please connect with us as soon as possible to compare calendars and make it happen.